---
What is Camelina Oil and Why is It Taking The Equine Community By Storm?

---
AUTHOR DAVID ROBERTS / CATEGORY NEWS / PUBLISHED: SEP-20-2018
I'm sure you've heard the rumblings...a new oil is breaking into the equine market. Horse owners are loving the results they're seeing and are quick to praise the benefits of camelina oil. Here we would like to share with you the secret of camelina oil and why it's the solution to you and your horse's pains.
So what is Camelina Oil? And why are people seeing such amazing results?
Camelina oil is what your horse is lacking in their typical barn diet of hay and grain. Camelina Oil's secret? Its unique fatty acid composition that provides your horse with a superior balance of omega3/6 that a healthy horse requires.
So what exactly does this omega3/6 balance do for my horse?
Well this unique fatty acid composition provides your horse with two essential fatty acids and what makes these fatty acids essential is that they must be acquired through their diet. These can't be synthesized on their own so they are required through diet supplementation.
The benefits of an optimal omega3/6 balance for your horse are endless. Studies have found this balance can:
Promote joint health

Help to maintain a healthy immune function

Enhance reproductive and overall physical performance

Factor in the maintenance of good overall health

Help to maintain a healthy skin/coat

Play a role in maintaining the integrity of hooves

Promote natural defences

Help maintain energy and general vitality
So not only does camelina oil help improve the overall health of your horse, but it has added benefits regarding their overall mood and energy levels.
Below our graphic demonstrates what sets camelina oil apart from other oils you've likely tried in the past, like flax or canola oil.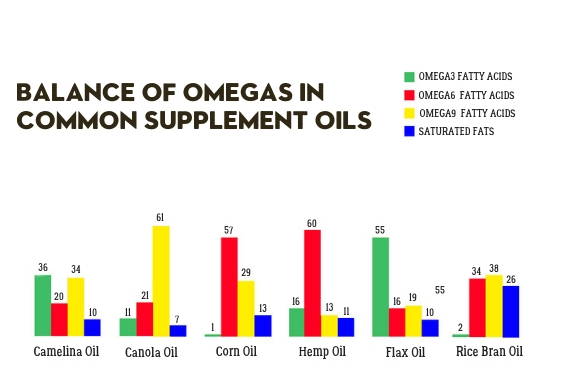 As you can see from our graphic above, camelina oil supplements your horse with the optimal balance of essential fatty acids required in a healthy diet. The "omega movement" has recently been gaining serious momentum and you can see why.
Kathleen Crandell Ph.D., an equine nutritionist at Kentucky Equine Research, had this to say about the importance of a positive omega3/6 balance in a horse's diet: "Too many omega-6s and not enough omega-3s can result in excessive inflammation in the body. Therefore, having adequate amounts of omega-3s in the diet to moderate the pro-inflammatory response of the omega-6s is desirable."
Studies are ongoing, but one recommendation for increasing omega-3 fatty acids is to replace corn, safflower, and sunflower oils with oils higher in omega-3 fatty acids and as we can see camelina oil offers a superior balance to other oils.
A Success Story: Rory's 30 Day Transformation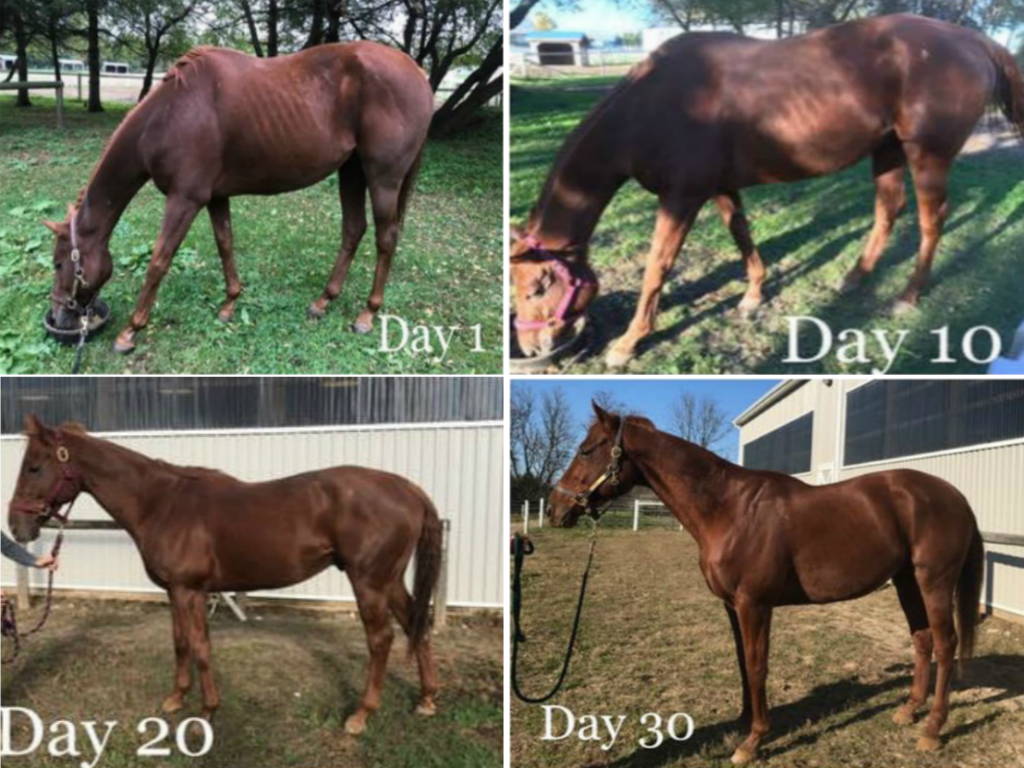 When Lori McCumber brought Rory to L & M Equestrian near Waterloo, Ont., the 5-year-old thoroughbred was a starvation case. But the positive turnaround she has seen in Rory's overall health in just 30 short days is simply amazing, partly due to adding Camelina oil to the horse's diet.
​Lori has been bringing rescue animals to her boarding and training farm for the past several years, helping them to turn around and then re-homing them. Rory was a real hardship case – extremely undernourished and neglected – so she immediately placed him on good rations with a supplement of Smart Earth Camelina Oil Equine Supplement.
"I had used other Omega oils in the past but this is the most cost effective and does the most," she said. "Rory is the fastest turnaround of any horse we've had – with the most dramatic difference," she added.
Lori, who has about 40 horses at L & M Equestrian, said Smart Earth's equine oil seems to have the ideal Omega3-Omega6 balance. "I had used other Omega oils before, the last one was basically a fish oil," she said. "What we noticed with Rory is his coat is turning out really nice and shiny. He seems to be putting on muscle better – it's like the oil helps him process the feed better."
She also noticed an improvement in the composition of Rory's hooves and his overall demeanor has changed dramatically for the better. "He's calmed down a lot. He was a little loopy when he got here," Lori said, adding she now has several other horses on Camelina oil as a supplement and they also are doing well.
Scientists suggest Omega3-Omega6 fatty acids are necessary in horse diets, since, just like humans, horses don't manufacture these essential fats themselves.
Camelina is rich in Omega3 fatty acids and tocopherols in a ratio that is unique among vegetable oils. In recent years the potential health benefits of Camelina supplements for animals in the form of oil, seed and meal is being widely researched and acknowledged.
---
I have found Camelina Oil to be a very effective feed additive to promote joint health in performance horses. Even one horse that was severely injured in his stifle during breeding season responded quickly and healed with full mobility due to the camelina oil. It also certainly adds a shine to their coat and a sparkle to their eye, and seems to improve stamina without causing "excess" (nervous) energy. I highly recommend Camelina Oil as a regular feed additive.
Roger Johnson - Horse Breeder and Trainer
"I have been riding horses for 30 years and breeding Andalusians for about 5 years. Recently, I have been trying Smart Earths' Camelina oil as a feed supplement for my performance horse. I am very impressed with how shiny her coat is, and the quality of her skin. She no longer has dandruff or dry skin. I'm also very happy with the nutritional value of the oil, as she is a hard-working athlete. I know that she is getting what she needs."
Dana Nordin - Andalusian Breeder | Clavet, Saskatchewan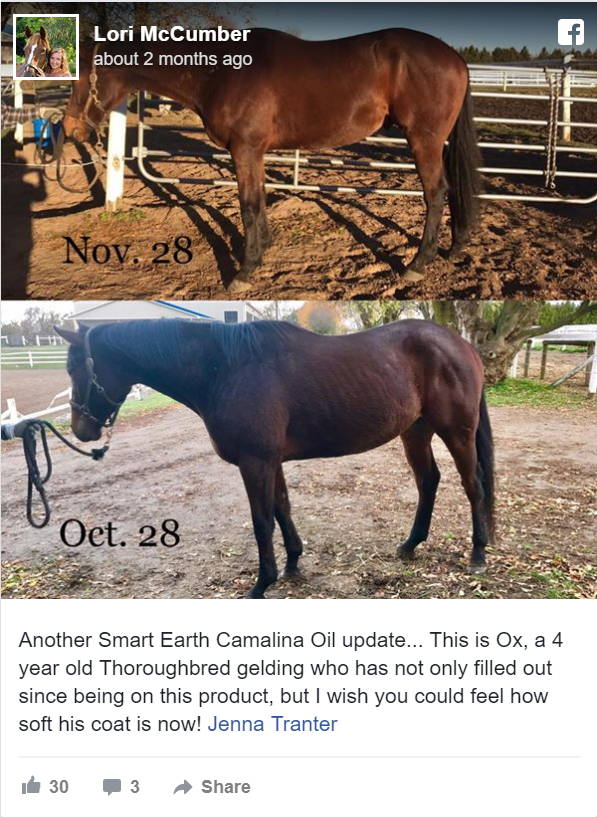 Shop Smart Earth's line of Equine Products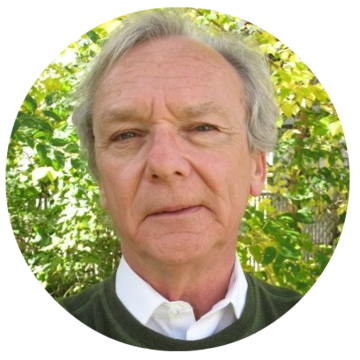 David Roberts manages Communications and Media Relations for Smart Earth Seeds. He is news media liaison and maintains Smart Earth's digital and social media presence. Mr. Roberts also conducts strategic industry and market research for the company. He holds an MA in Journalism and spent more than 20 years as a news reporter, mostly with The Globe and Mail. He is a 3-time National Newspaper Award nominee. He is a recipient of numerous fellowships and awards, including the Manitoba Institute of Agrologists Journalism Award.